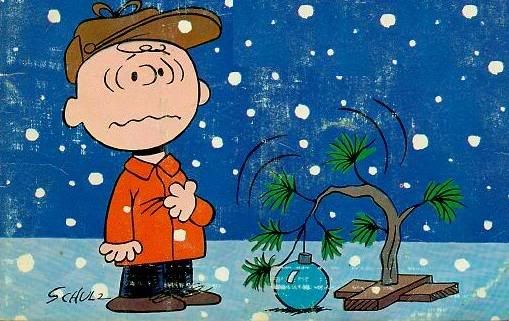 My Christmas tree is seriously more pathetic than this. We bought our tree 3 years ago. It is one of those prelit trees. Every year we go through the same struggle trying to get all of the lights to work. I really don't understand why it is so complicated, but once again we have ended up with 2 extra plugs, and nowhere to plug them in. We both searched everywhere, and got so frustrated we ended up giving up. So now my sad looking tree sits with lights that don't work, perched crookedly in it's stand. Not to mention some of the branches have given out so they kind of droop.
I am now sad every time I walk by the living room, or come home from somewhere and have to see our sorry tree in the window. I
want
to go buy a new tree, but what I should do is take a lesson from Charlie Brown and fix it up. Like Linus says "maybe it just needs a little love". So I am hoping once I straighten it out, and find what I did with the decorations last year it will look beautiful. Then I will feel a little less bah humbug when I see it.