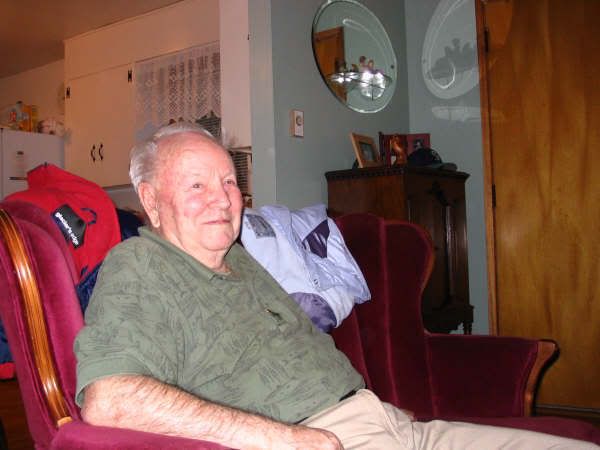 So this week I have thought a lot about something I could post for Father's Day. I decided to write about my Grandpa or as we called him Papa. He passed away a couple years ago and I think about him often always in a good way. I spent a ton of time with my grandparents growing up mostly because I honestly enjoyed being around them. I learned a lot from them and they both had a huge influence on my life. Here are just a few things I learned from my Papa.
There is no shame in getting passed by a house
He was a notoriously slow driver. When we were kids twice we drove to Disneyland in the motor home. This was at least a 3 day trip for us and we would get kind of bored so we would occupy ourselves by counting the number of cars that would pass us on the road some days we would get to 200 before we would become bored with this. One day we even got passed by a house. Yes, a house. A semi truck pulling a house passed us on the freeway maybe that gives you some idea of how slow he actually drove. We would always give him our daily count, and it didn't bother him at all neither did any of the honking horns. Fast forward a few years Papa is the one who taught me how to drive he was very patient with me as I mastered the skill, but one thing he was adamant about was that I always drive 5 miles under the speed limit. He insisted that this was safer and would always bug me about it when I was driving. About 5 years ago I was driving both of my grandparents down for my sisters graduation just after leaving my house and driving down the main road our conversation goes like this.
Him "How fast are you going Jen?"
Me "About 50"
Him "What is the speed limit?"
Me "40"
Him "If a cop sees you he will give you a ticket"
Me "Well I guess I would deserve it"
That was the last comment he made about my driving the whole 3 hour trip.
Never pay full price for something you can get for a quarter
He was a bargain hunter to the core. I doubt he ever payed full price for anything in his life. One of his favorite questions to ask me growing up "Hey Jen guess how much I payed for this?" His answer often was a quarter. He loved going to garage sales and frequented the Boeing surplus store. He was also a huge fan of
Stupid Prices
I never had the chance to go there with him, but I heard everyone who worked there knew him by name.
Coffee can never be too strong and if you can rhyme make up a song (and a dance)
I once spent an entire summer in Florida with them. In the morning I would always attempt to make coffee for us. Papa would always ask me did you make it strong enough? Of course I did. Well it turns our I never could make it strong enough for him even when I would double the 3 scoops we would use at my house. Papa was also a big fan of making up songs. I still remember the words to many of his made up songs to this day. He would make up a song for almost any occasion and if you were lucky he would combine it with the famous "Papa Shuffle".
An ordinary man can have a big influence on peoples lives

I think this is one of the most important things I learned from him. The thing is anyone in the family could write the same kind of thing I just did. His life impacted all of us that much. Everyone who knew him or considered him a friend could tell you a funny story or a way he had an influence on their life, and you would just laugh and say yep that was him.